にゃにゃちは♪ちびっ子番長Kazusaです☆
今日は寿司タウンのスクリプト第15話です!
確定申告も無事終わり、引っ越しも終わったし、
春からは沢山英語の勉強・ブログ・動画作り・あとダイエットを頑張りたいです(^0^)
このブログをご覧の皆さんも、何の勉強をしようかなぁと思われる人は是非寿司タウンを見てみてください♪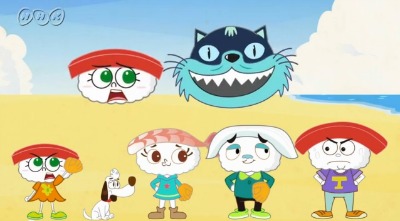 寿司タウン15話
---

This is Sushi Town, where all Sushi live in peace.
The time now is ...
Hello. It is 4:30 in the afternoon.
Yay! Home run!
The ball went into the cats forest.
Akami, go and get the ball.
No. Cats like sushi very much, right? They will eat me.
You hit the ball, Tuna. So you go and get it.
That is right. We have only one ball. We don't have 2 balls or 3 balls.
No, I don't want to go. Cats have 2 eyes, cats have 2 ears, cats have a few whiskers, and cats have 4 legs. I have only 2 legs.
We know that.
It doesn't matter how many legs you have. Tuna, go and get the ball.
That's right.
No way!
It is 4:40 in the afternoon. I have 2 wings.
I have 2 bats, I have 2 gloves, I have a helmet, and I have many good luck charms. I think I am okay. I will go and get the ball.
Does anyone have a handkerchief?
Here.
What? Why are you crying?
We will never see you again, right?
That's not true, but hey, can I take Negitoro with me? He has 4 legs like a cat and he has sharp teeth.
No, the cats will eat Negitoro.
What about me? Okay I will go alone.
Tuna, you were a good friend.
I will never forget you.
I'm just going to get the ball.
In the end, no one went to get the ball.
憶えておきたい表現
---
〜, right?:「〜でしょ?」
That's not true:「そんな事ないよ」
take:「連れていく」